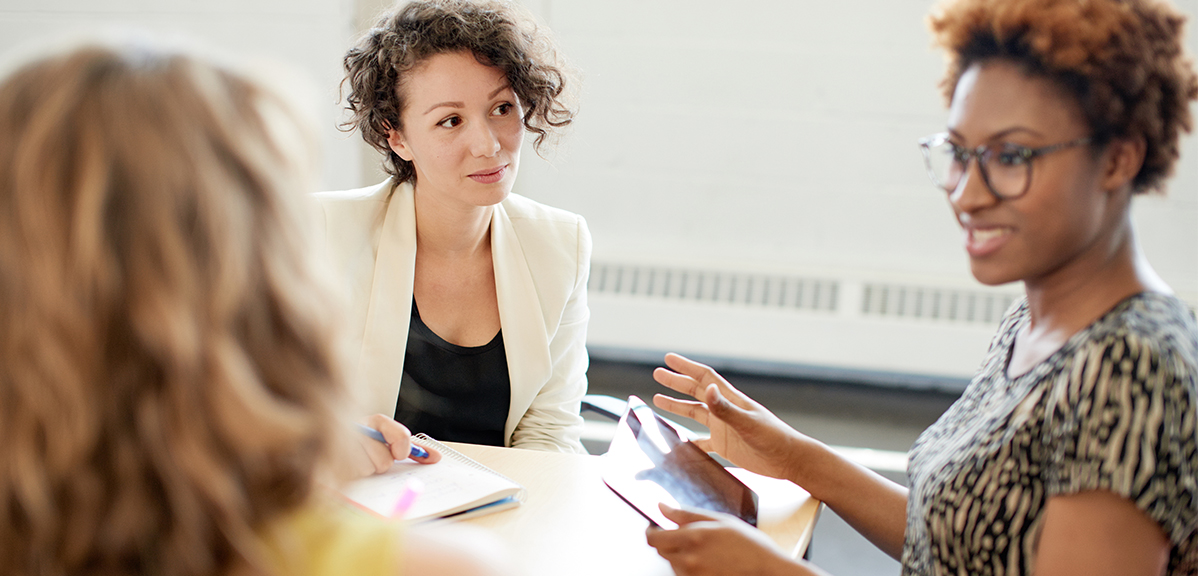 Work with Us
Our Hiring Philosophy
Turning Point Community Programs has offered a path to mental health and recovery since 1976 and is committed to hiring individuals who share our "whatever it takes" philosophy. If you are interested in making a difference in an environment that is empowering and challenging, you may be just who we are looking for.
Why Choose Turning Point Community Programs?
Simply put, the rewards for our employees are numerous. When you join our team, your development is enhanced by a broad variety of assignments, career advancement opportunities, and the personalized attention given by our team leaders and senior managers. Turning Point employees are eligible to participate in our comprehensive benefits program that begins the 1st of the month after 60 days of employment. Benefits include medical, vision, and dental plans, life insurance, a pension plan, and a number of other discount programs and coverage opportunities.
Questions? Send an email to humanresources@tpcp.org.
Career Opportunities
Explore current job openings.
Walk-In Interviews
We currently hold open interviews on Wednesdays between 2:00 pm and 4:00 pm. Please bring your resume to our home office, located at 10850 Gold Center Drive, Rancho Cordova, CA 95670.
Learn, Grow, Thrive
Turning Point Community Programs Department of People Operations (DPO) Training Services provides access to opportunities for professional and personal enrichment activities. DPO training services creates, promotes, and fosters an organizational learning culture that values development, diversity, and growth opportunities for all of our colleagues.
Emerging Leaders Program
Turning Point Community Programs recognizes that encouragement, motivation, and inspiration are at the heart of leadership. We want our colleagues to learn, grow, and thrive within the agency so we developed the Emerging Leaders Program (ELP). The ELP is committed to fostering a colleague's higher view exposure to agency administrative and programmatic operations in order to encourage and empower our colleagues to serve as future leaders at any level within our organization.
Navigating Leadership Program
Our Navigating Leadership Program (NLP) equips our colleagues in leadership roles with the skills, strategies, and tools to rise to their leadership responsibilities and effectively guide their teams. Through the NLP our leaders develop their own leadership style to meet the distinct challenges of leading their teams. Skills are developed that serve and shape team culture to maximize talent and elevate team performance, with a foundation in effective communication, thoughtful collaboration, and psychological safety.
No matter where our colleagues may be on their leadership journey, we support our team members to learn, grow, and thrive.
Mentoring Program
Our colleagues have immeasurable talent! Turning Point Community Programs mentoring program taps into the knowledge and experience of our colleagues to provide a structured, inclusionary, and networked learning process that facilitates peer-to-peer sharing of knowledge. Mentors connect with their peers to share advice, offer guidance, and support mentees' professional growth and development in various areas of expertise that range from soft skills to clinical education.
Targeted Mentoring Program
Colleagues helping colleagues. The Targeted Mentoring Program (TMP) partners advanced and mentoring performance-rated colleagues with colleagues who may exhibit at-risk performance in order to learn, grow, and thrive in a safe environment without judgment.
E-Learning
Our e-learning courses offer flexibility and accredited continuing education. With thousands of available courses, our colleagues are able to access training that fits their needs at a time that fits their schedule.
For more information, please contact the DPO training director, Stephanie Love, MS, LPCC, NCC at stephanielove@tpcp.org.
Internships
Turning Point Community Programs (TPCP) has the privilege of serving more than 100 student interns each school year who require field work or practicum placements. We have partnered with more than 130 different universities throughout the United States. We have placement opportunities in more than 50 programs with sites in several Northern California counties, serving members from early childhood through adulthood. What sets TPCP apart is the richness of the diversity of experiences in environments where the tone is of hope, optimism, and enthusiasm as each intern/trainee moves toward their learning goals.
TPCP's goal is to structure an internship/trainee program that is exemplary, well-organized, and a comprehensive experience for interns/trainees. Each site structures an internship/trainee experience to best meet the needs of the interns/trainees via a tailored description of their program and the service recipients' service provision.
Our hope is that through offering these internship opportunities, more mental health professionals will bring enthusiasm and a belief that "a diagnosis is not a destiny" to their work with those experiencing psychiatric disabilities.
To request placement, please email DeborahRoberts@TPCP.org
Eligibility
Interns and trainees come to TPCP at different stages in their professional development from their college/university programs (i.e., last year of their Bachelors, 1st, 2nd, 3rd year of Master's, and Doctorate programs). TPCP also accepts interns with placement requirements from the fields of psychology and sociology. The internship/trainee-ship responsibilities at TPCP will uphold and continue the structured expectation and rich learning opportunities currently offered through their school/university programs.
Clinical Supervision
Based on their level of experience, each intern receives clinical supervision supported by an examination of the theoretical and empirical literature, which includes:
Therapeutic and supervisory alliance based on effective practices in supervision
Diversity competence through treatment models and effective interventions specific to various ethnic and cultural minority groups
Ethical and legal responsibilities
Diagnostic criteria and research/evidence grounded interventions for the major disorders based on the DSM-5
Case management responsibilities, which may include development of bio-psycho-social-spiritual-cultural assessment and treatment plans
Introduction to group process and dynamics through a co-facilitator role and observation participation
Training opportunities facilitated by TPCP in a wide variety of evidence-based, relevant practice theories/interventions such as CBT, DBT, Motivational Interviewing, Trauma-Informed Practice, and Non-Violent Crisis Intervention, Trauma-Based CBT, MRT, Mindfulness, Suicide Prevention and Postvention, Cultural Competency, etc.